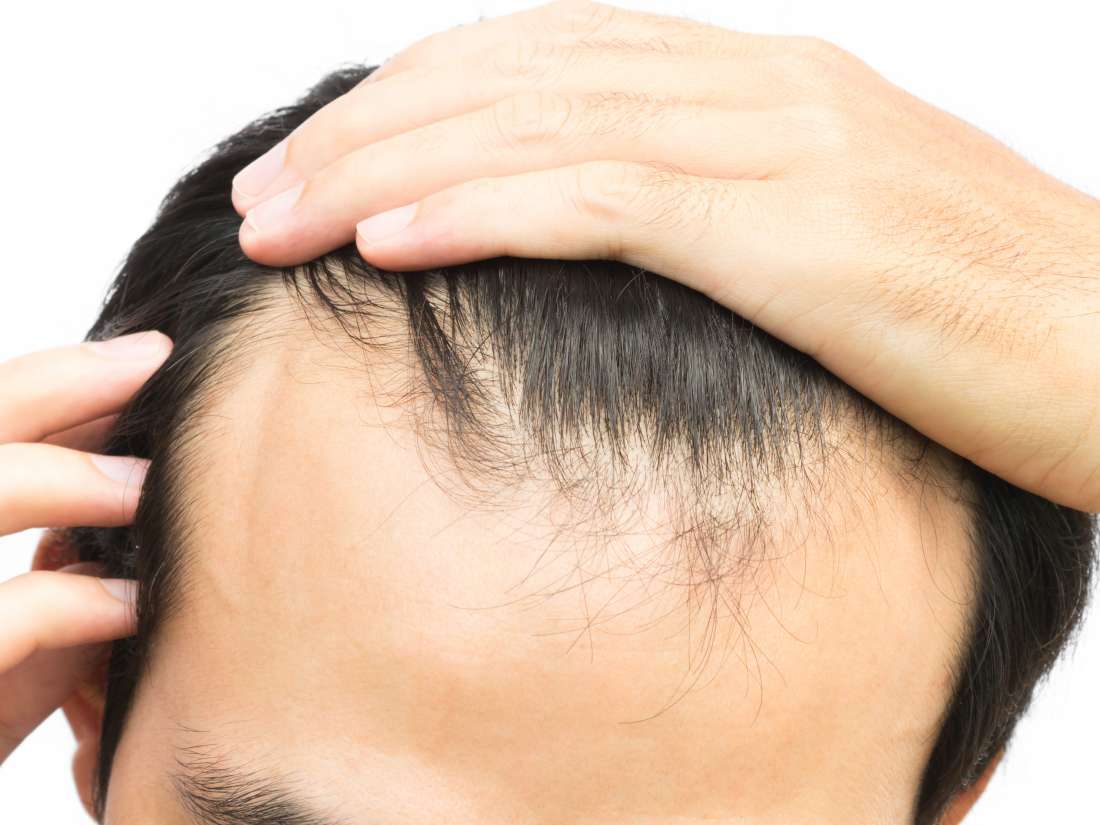 The Receding Hairline Stages for Men & Women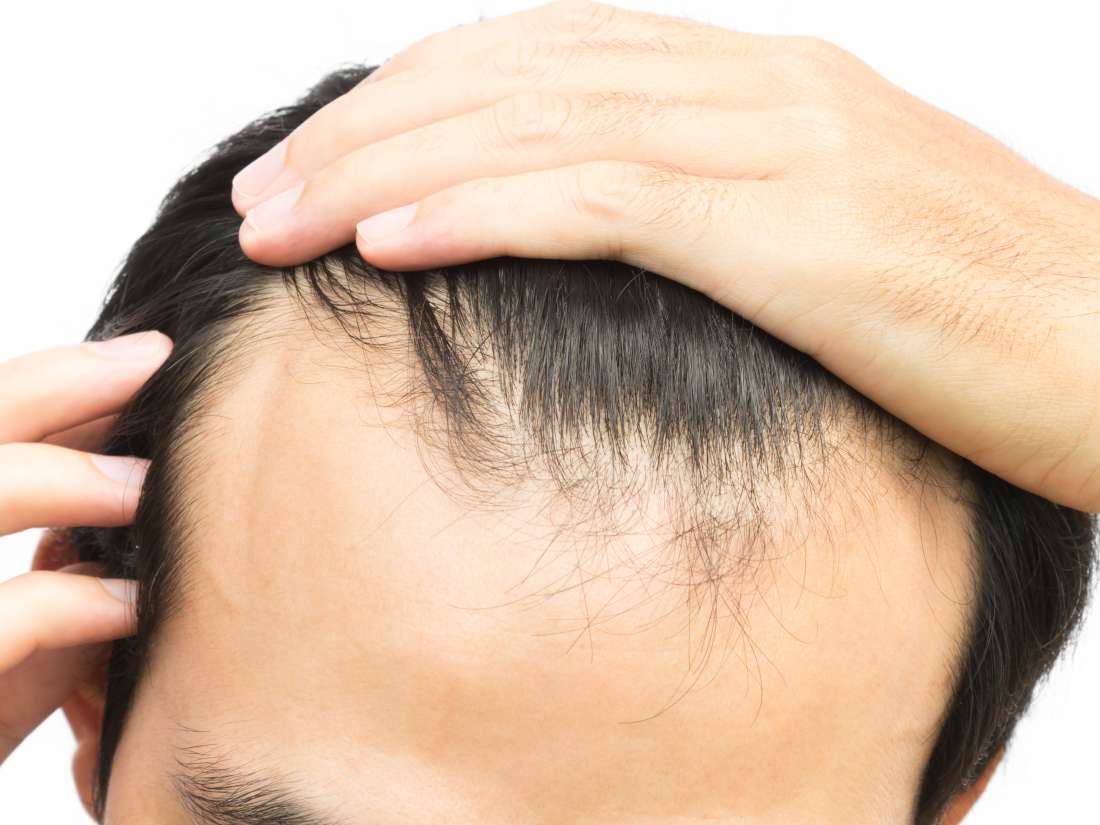 Hair loss is an all-too-common experience. Despite it being most commonly associated with men, hair loss also affects women. There are many different types of hair loss. A receding hairline is one of the most common and may be an early stage of baldness. Knowing the signs of a receding hairline and what you can do about it may help you mitigate or avoid more severe hair loss.
What "Receding Hairline" Means
A receding hairline is when you lose hair at your brow and over your temples. This makes your hairline move further up and away from your face. Men are more likely to experience a receding hairline than women. However, although female hair loss typically presents as thinning, some women experience a receding hairline.
Your hairline may recede as it matures. This is a normal part of aging and does not necessarily indicate that any further hair loss will occur. However, the term "receding hairline" does not refer to a maturing hairline. Instead, it typically refers to the early stages of androgenetic alopecia (pattern baldness) or another type of hair loss.
If you are over 27, your hairline is likely done maturing. Any more receding of the hairline is indicative of a more significant problem. You can measure the distance from the top wrinkle of your forehead to your current hairline. The top wrinkle is roughly where your juvenile hairline was. If the distance is more than 15 millimeters, you may be experiencing a receding hairline.
---
Typical Stages for Men
Different men may experience a receding hairline in slightly different ways. Some men may only experience progressive hair loss at the hairline. In this case, the hairline will slowly move further and further up the head until there is no longer a hairline at all. Eventually, there will be no hair on the top of the head.
Another type of receding hairline primarily involves a bald patch emerging and growing at the top of the head. In this case, the hairline may recede slowly until it connects with the bald patch, resulting in complete baldness.
Many people experience greater hairline receding over the temples. In this case, the hairline will move back in a way that forms a widow's peak. Again, this will ultimately result in complete baldness.
Some people may maintain hair on the back and sides of their heads after the hairline recedes. Other men lose all of their hair.
Regardless of your type of receding hairline, it is common to experience thinning or baldness elsewhere on the head simultaneously. The top of the head, hairline and temples are where hair follicles are most vulnerable. Therefore, those tend to be the problem areas for most men.
Typical Stages for Women
Receding hairlines for women tend to be less dramatic than for men. It is common to simply experience reduced hair density. Many women's hairlines thin without actually receding completely. However, some women do experience a receding hairline.
Typically, this will present as thinning and eventual receding along the hairline. Additionally, many women experience thinning along the part, which turns into the part widening.
Like men, women are more likely to experience hair loss around their temples, hairline and part than on the sides or the back of the head. Some women experience hair loss on the tops of their heads. However, this is less common for women than men.
Hair loss among women is less common than it is for men. However, it is more common than many people realize. In fact, the majority of women will experience at least some amount of hair loss during their lifetimes.
What You Can Do About It
The good news is that you don't have to simply accept hair loss. There are many treatment options available today that can help both men and women combat their receding hairlines.
There are several causes of a receding hairline. Androgenetic alopecia is the most common, especially among men. Alopecia areata and traction alopecia are also possible culprits. However, these are significantly rarer.
Although it may be linked to genetics or medication, hair loss is not as mysterious as it may appear. It happens because the hair follicles become less healthy and are unable to grow hair anymore. As this happens, your rate of hair loss (which happens naturally to everyone) will exceed your rate or new hair growth. These are a couple of treatments you can use to combat hair loss:


Revita Shampoo: This shampoo includes dihydrotestosterone (DHT) blockers. This hormone is believed to be a major cause of androgenetic alopecia. Additionally, it contains antioxidants, anti-androgen, hydrating and growth-stimulating ingredients that will improve the health of your hair follicles. It is a convenient and effective way to fight a receding hairline.


Spectral DNC-N: This topical hair treatment includes Nanoxidil, a powerful alternative to minoxidil without the side effects. It opens up ion channels in the scalp to improve follicle health. Additionally, the treatment includes DHT blockers and ingredients such as adenosine, azelaic acid and caffeine that boost hair follicle health.
Both these treatments can help effectively fight a receding hairline. They include ingredients with clinically-proven hair growing properties.
Take Control of Your Hair
If you want to take control of your hairline and help prevent it from receding any further, check out DS Laboratories' selection of hair health products. The sooner you act on your hair loss, the more likely you are to experience positive results. Don't wait to get started. Place your order today or start a hair assessment to learn which products are best for you.
---
SHOP SHAMPOO TO PROMOTE HAIR GROWTH