Your search for products that actually work is over. Our collection is clinically proven to deliver on claims based on extensive clinical studies and testing.
We will rigorously test and verify all claims through clinical studies that support product effectiveness. If a compound or ingredient has not been verified through such means, it will not be used in our products.
Dermatologist Recommended
Many products contain harsh ingredients that harm your skin and hair. Ours don't. Our collection is designed, tested, and recommended by thousands of dermatologists - so you can rest assured you're getting a quality solution.
Best Rated By Real People
Don't take our word for it—ask our customers. We have over 10,000 5-star reviews, and more coming in every day. Our customers love our products and so will you!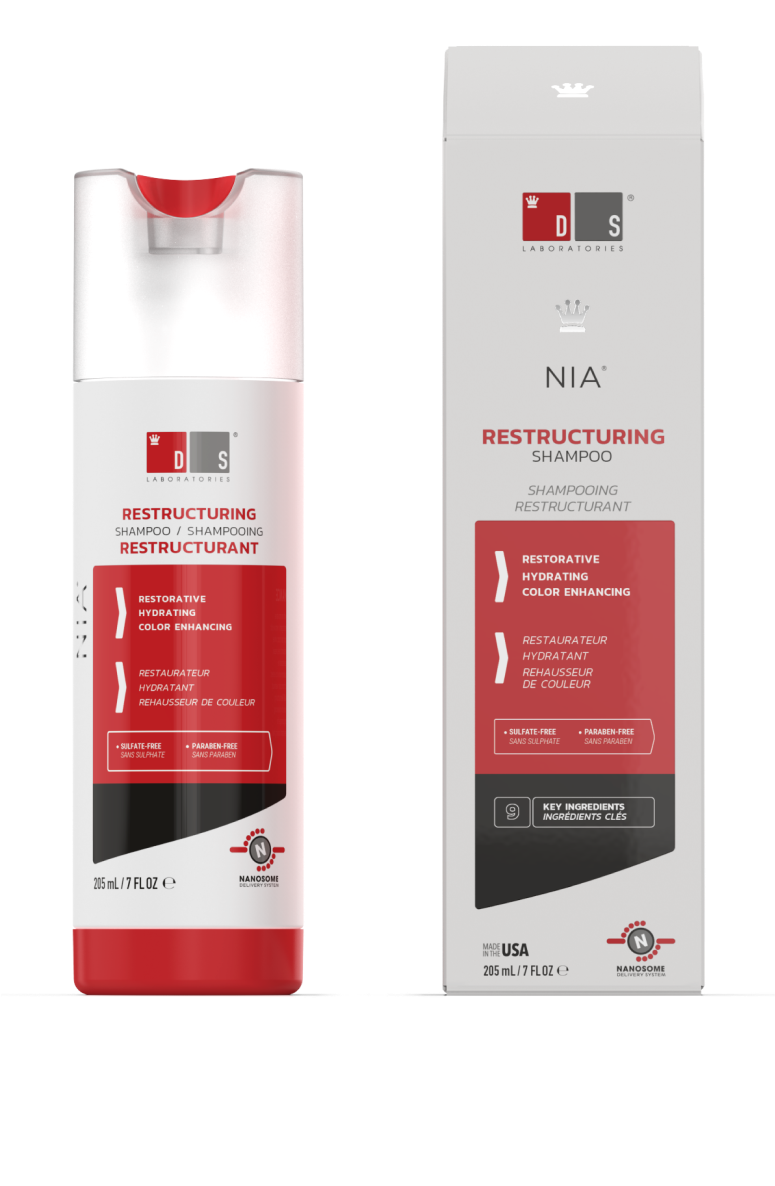 Clinical Studies
First and foremost, DS Laboratories is a technology company aggressively focused on innovation. All our products have active pharmaceutical ingredients that ensure the best quality and provide high added value in the care of hair problems.
12 KEY SHAMPOO INGREDIENTS
Wheat Protein
Wheat Protein helps reduce breakage, eliminates frizz and tangles, and makes your hair appear fuller.
Soy Protein
Hydrolyzed soy protein helps repair the lash structure, adding volume and thickness to your lashes, while adding shine.
Vegetable Protein
Vegetable Protein enters the hair strand, and its hydrophilic groups work from within the fiber to bind water molecules. It provides deep moisturization to reduce hair fiber brittleness and the formation of split ends.
Honey Bee Moisture Complex
Ideal for improving the strength of hair, Honey Bee Moisture Complex supports healthy growth and strength.
Panthenol
Panthenol improves damaged hair by improving effects of hair elasticity, moisture retention and flexibility.
Green Tea Extract
Green Tea Extract is a powerful antioxidant that reduces inflammation and keeps hair healthy.
Ginseng
Used in Chinese traditional medicine, ginseng root supports hair growth by stimulating the scalp, prolong follicle life, reduce hair loss, and promoting hair regrowth.
EUK134
EUK134 is a mimetic of superoxide dismutase and catalase, creating an exceptionally unique self-regenerating molecule that targets superoxide free radicals. Few products on the market use this super antioxidant due to its elevated cost.
Aloe Vera
Aloe Leaf Extract is a powerful hair conditioner that repairs dead skin cells and supports healthy scalps.
Ginkgo biloba
Sunflower Seed Oil helps to soften dry, frizzy hair and adds a beautiful shine. It has a very light texture and acts as a natural conditioner.
Comelanin Q10
Comelain Q10 offers powerful anti-aging effects on hair, restoring a youthful, vibrant appearance.
Adomethicone
Amodimethicone is a modified silicone that selectively repairs the damaged hair cuticle, protecting against future thermic damage. It is one of the most effective anti-frizz ingredients available today.
Advanced Nanosome Delivery System encapsulates key active ingredients and delivers them to the scalp and skin for a prolonged release and higher efficacy.
Good for you,
Good for the planet
We take our commitment to the environment seriously, both in our products and our packaging. To that end, we recently introduced Oxo-biodegradable packaging. It's the same great product, with 90% less waste.
Learn more
NIA Hair Restructuring Kit
High-Performance Hair Restructuring Shampoo & Conditioner + Nia Fix
Restructuring Shampoo
$32.00
Restructuring Conditioner
$32.00
Instant Bond and Cuticle Restructuring System
$38.00
Consistency = Success
Subscribe & Save 10-20%
Buy Once, We'll Do The Rest!
Shop now
DS Laboratories is a proud participant of: