This store requires javascript to be enabled for some features to work correctly.
Free U.S. Shipping On Orders Over $50
Two Products That Will Really Enhance
Minoxidil Results!

While there is no cure for hair loss, there are treatments in the market that help with hair growth and thinning hair. Rogaine® (Minoxodil, the key ingredient) is used by many to help with hair loss.

See our article of Rogaine vs. DNC-N to see why DNC-N has more features to stimulate hair growth: Click to learn more.
However, to achieve better results when using Minoxidil, these two products will enhance results for hair regrowth and thinning hair.

---
REVITA HAIR STIMULATING SHAMPOO:

Revita® hair-stimulating shampoo delivers superior results for men and women concerned about hair loss, thinning hair, and androgenic alopecia (female pattern baldness or male pattern baldness). Revita shampoo is formulated to maintain scalp vitality and act against follicular dysfunction, achieving the best results in a short period of time.
Revita has been rated the #1 shampoo for hair loss and thinning hair by the likes of Fatherly, BaldingBeards, ToolsofMen and more.
Based on clinical studies, men and women experienced a reduction in hair loss and increased hair growth when using Revita Shampoo daily for 90 days.

---
Experienced a Decrease in Hair Loss
Experienced Improvement in Overall Appearance of Hair
Experienced Reduction in Hair Loss Rate
---
---
SPECTRAL.F7 TOPICAL HAIR GROWTH BOOSTER:

Spectral.F7 is a great way to enhance minoxidil results. An advanced hair boosting agent, Spectral.F7 is a breakthrough formula that incorporates Astressin-B, a powerful peptide to aid in stopping stress related hair problems. Proharin-B4 is also used to revitalize hair strands for healthy, stronger looking hair. Spectral.F7 is a gentle water based formula so it will not leave an oily or sticky residue and is formulated for both Men and Women.
Combat Thinning Hair




Thinning hair is a thing of the past with Spectral.F7. By improving follicular health with the help of a complex new Astressin-B Peptide, which delivers 33 amino acids to hair follicles, Spectral.F7 does what other formulations cannot.

 

Clean, Light Formulation




F7 is a gentle water-based formula, which means it will not leave an oily or sticky residue. This formulation is designed for both men and women.
DS Laboratories Minoxidil
Spectral.UHP w/ Minoxidil 5%
Spectral.UHP is DS Laboratories Minoxidil-based 5% hair regrowth treatment, a powerful ingredient to combat hair loss. A solution recommended by dermatologists around the world, Spectral.UHP is used to treat male pattern baldness, medically referred as androgenic alopecia, specifically targeting the crown area with effectiveness. Spectral.UHP helps promote hair growth in men with androgenic alopecia. Minoxidil must be used indefinitely for continued support of existing hair follicles and the maintenance of any experienced hair regrowth for best results.
Spectral.UHP, Minoxidil-based, is a potassium channel opener, causing hyperpolarization of cell membranes. Theoretically, by widening blood vessels and opening potassium channels, it allows more oxygen, blood, and nutrients to the follicles. This may cause follicles in the telogen phase to shed, which are then replaced by thicker hairs in a new anagen phase.
THE RESULTS SPEAK FOR THEMSELVES
Real Reviews from Real Customers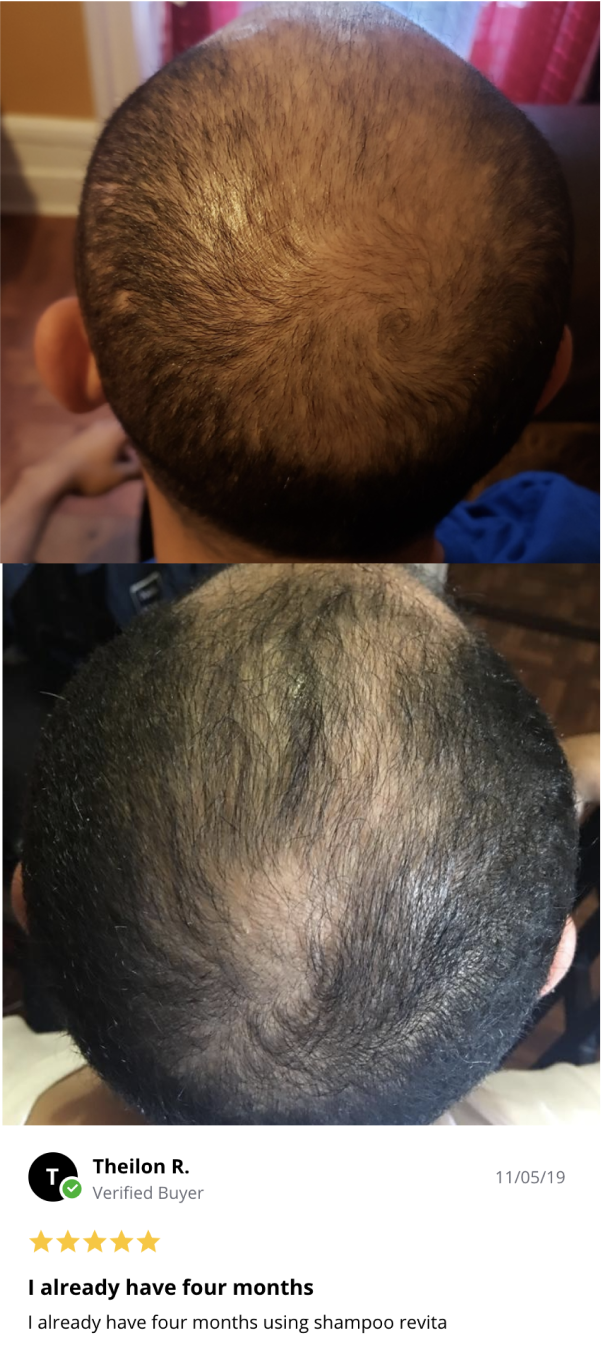 "This is the best shampoo to prevent and treat hair loss. It delivers caffeine that stimulates hair growth and also counteracts the negative effects of testosterone in hair follicles. If you lose more hair than normal or feel your hair is getting thinner, Revita is the right shampoo for you."

DR. ANTONELLA TOSTI, MD, FAAD
FREDRIC BRANDT ENDOWED PROFESSOR OF DERMATOLOGY
World-renowned Physician, Dermatologist, and Scientist Dr. Antonella Tosti is DS Healthcare's resident Medical Advisor. Dr. Tosti is an Italian physician and scientist responsible for groundbreaking contributions in the field of dermatology. Bringing her authority as the industry's most vocal supporter of commercial and consumer advancements, she remains at the forefront of hair care innovations.