 What is the Difference Between Minoxidil and Nanoxidil?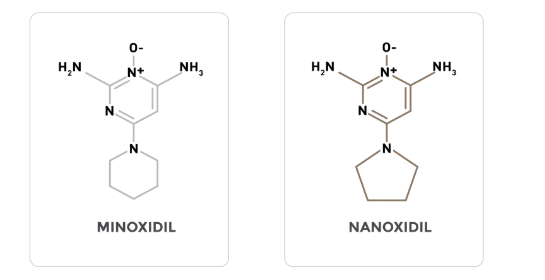 In the constant battle against hair loss, medical researchers are tirelessly working on developing the most successful formulas to help both men and women tackle this embarrassing and unappealing problem and regain their self-esteem. There are many hair loss products out there and people are always at a loss on which ones are better than the others. Among the most common and frequently used ingredients in the hair loss products are Minoxidil, Nanoxidil, Procapil and Aminexil.
---
Check out our new Minoxidil vs. Nanoxidil page here, comparing our Spectral.DNC-N to Rogaine (Main ingredient Minoxidil) to give you a clear and better understanding between the differences of these two ingredients and which one may be better suited for you.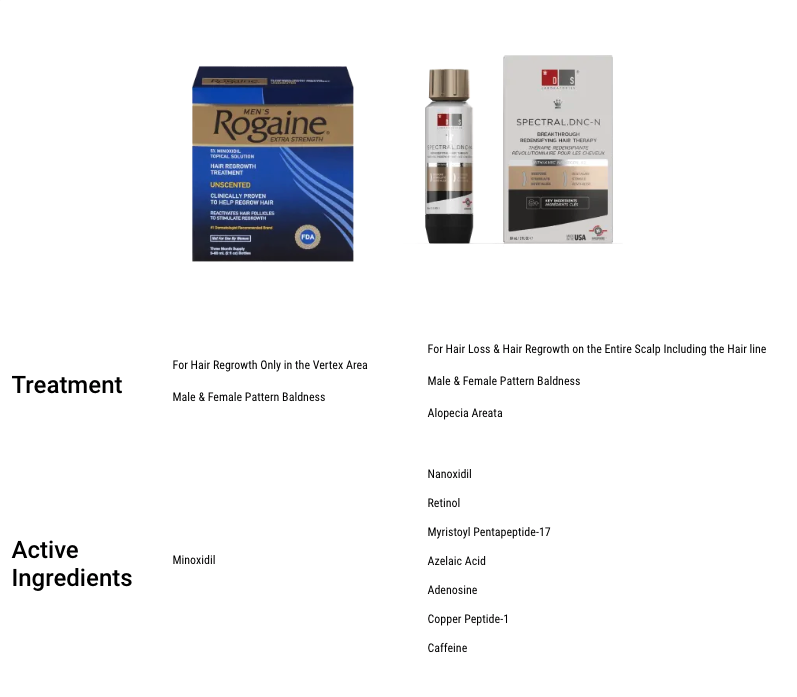 ---
Here, we will try to contrast two of the most popular ingredients found in hair loss products – Minoxidil and Nanoxidil and by pointing out their differences answer some questions that you may have regarding the two.
Minoxidil is the most popular hair growth agent that is used nowadays. It has a widespread use for hair loss treatment as a lotion used topically. Usually used to treat androgenic alopecia, this ingredient helps both men and women in the battle against hair loss.
For those of you who may have not known, minoxidil was not originally developed to tend to hair loss issues. Scientists developed minoxidil primarily to treat hypertension. During the clinical trials and different tests of the drug, scientists came to the conclusion that the subjects that underwent the treatment exhibited stronger hair growth, and this was all due to the presence of the Minoxidil.
Nowadays, Minoxidil is considered as one of the most popular hair loss treatments in the form of a lotion. It is most commonly used to treat the vertex area. Even though many people have used it and seen great positive hair growth effects and positive outcomes, nevertheless Minoxidil is not short of many side effects as well. Minoxidil users have reported problems such as itching, redness, burning and irritation of the eyes, headaches, acne, local irritation, unwanted hair growth on other parts of the body and even worse, heart problems. Studies have shown that women tend to be much more sensitive to Minoxidil than men are, and therefore the highest concentration that is allowed for women to use is 2%.
---
Shop DS Laboratories Minoxidil
---
Nanoxidil as an agent was developed on the basis of Minoxidil exactly due to all the side effects that Minoxidil causes. Its role was to bring out maximum possible hair growth, with less of the side effects, while at the same time exceed the effectiveness of Minoxidil in hair growth stimulation.
Knowing the fact that Nanoxidil was developed on the basis of Minoxidil, we can conclude that the difference between these two is on a molecular level. As the more recent compound, Nanoxidil is built with a similar molecular structure as Minoxidil, but the difference is that the Nanoxidil molecule has one less carbon chain.
Nanoxidil belongs to a class of agents called ion-channel openers and is one of the relatively newest ones. Nanoxidil is basically an agent whose role is to open up the ion channels within the cells themselves. By doing so it helps activate certain cellular mechanisms, which help reduce or remove a number of triggers that cause the hair to fall out.
Being responsible for opening up the ion channels, Nanoxidil as an agent has a lower molecular weight than Minoxidil. This is also the main reason why Nanoxidil has a much larger skin absorption capacity than Minoxidil.
Being a new product, there is still not enough information on how effective it actually is compared to Minoxidil and also there is not that much information as well on some of the long-term side effects that the use of Nanoxidil may cause. However, clinical studies have shown that Nanoxidil has a significantly smaller number of side effects compared to Minoxidil while at the same time being much more effective.
Another difference between the two of them is that while Minoxidil focuses on treating the vertex area, Nanoxidil treats both the vertex area and the hairline as well.
---
---
---
What needs to be understood when deciding on which of these products is better to use if you are experiencing a particular hair loss problem, is the fact that Minoxidil and Nanoxidil behave very differently from one another due to their difference in molecular structure. That being said, it is also important to note that not all products work the same for every person as there are many factors and variables which are also involved. Always be cautious should you decide to switch between the two therapies or use them simultaneously.
Minoxidil lotions usually contain only the agent Minoxidil, and very rarely some other agents as well. On the other hand, one of our best products is the topical called Spectral DNC-N which contains not only Nanoxidil as a better substitute for commercial grade Minoxidil, but also a number of other different ingredients such as:
retinol which improves the absorption of the product into the skin,
procyanidin B-2 for the hairline,
adenosine for cell optimization,
Aminexil against perifollicular fibrosis,
copper peptides against inflammation and herbal extracts to improve the health and condition of the scalp.
It also has a Nanosome-encapsulation system which serves to transport the compounds much deeper into the skin so that they have a longer performance and persistence.
As a lot of clinical tests have been made regarding the use of Nanoxidil, and Spectral.DNC-N as well has been tested in a clinical trial including over 250 and in a period of 1 year and has been proven to be a safe and effective way to prevent hair loss and maximize hair retention.
According to the results of the clinical trial, 80% of the people saw significant improvement after a medical evaluation had been performed, it helped 93% of the people decrease their hair loss and an amazing 83% of the people experienced hair regeneration as measured by quantity of hair per cm2.
Participants in a 3-month clinical trial of Nanoxidil experienced no side effects and have also reported at the same time that overall, they feel like they have a healthier scalp. Therefore, Nanoxidil is not only recommended for people who are dealing with severe hair loss, but also for people that want to retain their existing hair and prevent any possible hairloss problems beforehand.