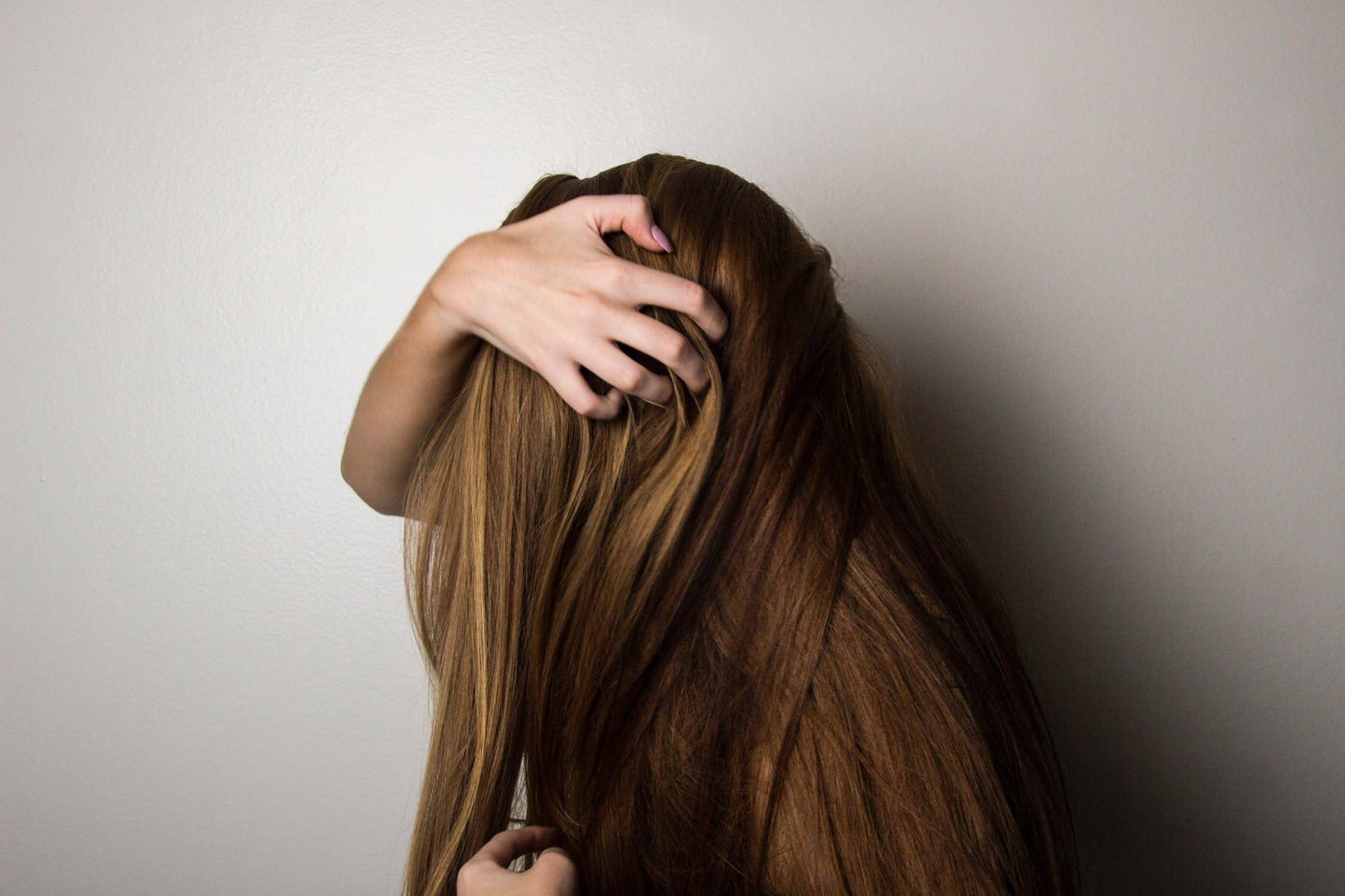 How Caffeine Promotes Hair Growth for Hair Loss and Thinning Hair

If you struggle with hair loss, you have probably tried various methods to get your hair to grow back. You may have even heard that caffeine can promote hair growth. However, can it really be true that this simple, everyday compound can help your hair to grow? If so, how can you get the right amount of caffeine to do the job?
How Caffeine Influences Hair Growth
It's true: caffeine can promote hair growth. Certain types of hair loss, specifically what is referred to as male-pattern baldness or androgenetic alopecia, are related to the presence of dihydrotestosterone. Testosterone is often thought of as a male sex hormone. However, both testosterone and its derivative, DHT, naturally occur in both males and females. Therefore, although you may hear the term "male pattern baldness," the condition affects both men and women. Caffeine helps block DHT before it can affect your hair follicles and cause them to shrink and eventually stop growing hair.
How to Treat Thinning Hair With Caffeine
Although the most commonly known sources of caffeine include coffee, tea, chocolate, and soda, consuming large amounts of these beverages and foods is not recommended. Even if you were to drink several cups of coffee per day, for example, you still would not get enough caffeine to your scalp to make a difference. Drinking too many caffeinated beverages may even be harmful to your health. What you should do instead is apply the caffeine topically to the areas of the scalp where you would like to see more hair appear. For caffeine to be effective in promoting hair growth, you must have the right amount of caffeine and a way to deliver it deep into the roots of your hair. The best way to accomplish this is to use proven, dermatologist-recommended hair growth products that contain caffeine.
How to Use Hair Growth Products Containing Caffeine
Caffeine is not the only effective DHT blocker, and coffee and tea are not the best sources of caffeine for hair growth. Therefore, you shouldn't just rinse your hair with coffee and hope to see results. Instead, try a scientifically-developed line of caffeine-infused hair care products, such as Revita or Spectral DNC-N. These shampoos, conditioners, and other hair treatment products are formulated to deliver the right amount of caffeine, along with other growth-promoting ingredients, directly to the scalp and hair follicles. Our advanced Nanosome technology empowers the key ingredients to penetrate the scalp and do their work deep below the surface.
Revita
Our high-performance hair stimulating shampoo, Revita, is formulated with biotin, caffeine, and ketoconazole (another DHT blocker). It's suitable for all hair types and is not only for people who have experienced hair loss. Anyone who desires fuller, stronger hair can use Revita. This shampoo should be used five days per week. The first time you use it each day, leave it on for two minutes before rinsing. Wash your hair a second time with Revita, this time leaving it on for three to five minutes before rinsing. Follow with Revita conditioner. In clinical studies, 92 percent of people who used Revita for 90 days experienced decreased hair loss, and 85 percent noticed that their hair looked better overall.
Spectral DNC-N
Our technologically-advanced leave-in hair regrowth spray, Spectral DNC-N, takes a multi-directional path to enhance hair growth. It uses the same Nanosome encapsulation technology as Revita to penetrate deep into the scalp. Because of this technology, it can work for 12 hours per application, which is much longer than other topical treatments. Spectral DNC-N is an excellent choice for people with thinning hair in the early to moderate stages. Its proprietary formula contains Nanoxidil, copper tripeptide-1, and caffeine, along with other potent ingredients, to stimulate hair growth and revive follicles.
To use Spectral DNC-N, first, shake the bottle. Next, spray the affected area six times and rub the liquid in. Wash your hands and leave the product in place. Follow the application sequence twice each day. In two to three months, you should start to see results. In clinical studies, 95 percent of users noticed a reduction in hair loss, and 75 percent saw an increase in hair growth.
Simple, Effective Treatment
Although simple compounds, such as caffeine, may not seem like powerful components of a hair-growth regimen, they are! The secret is in the science. First, you have to be sure you have the right mix of ingredients at concentrations that are effective and safe. Next, you need a delivery method that will allow those ingredients to work at the level where they'll do the most good. With the Revita and Spectral DNC-N lines, you get all of that plus a formulation that won't damage your hair. Our products are designed to focus on the dermatological aspect of new hair growth. However, they also promote the health and beauty of the hair you already have. For example, Revita shampoo strengthens existing hair strands while it stimulates the scalp and hair follicles to promote new growth.
If you are concerned about thinning hair and want to give caffeine and other proven topical treatments a try, there's no better time to start than today. Browse our selection of products to treat hair loss and see which products are ideal for your situation. If you're not sure where to start, check out our free online hair assessment. Answer a few quick questions, and we'll give you personalized product suggestions based on your hair type, problem areas, and needs, whether you're experiencing hair loss, frizziness, dandruff, split ends, or something else. We're here to help you get the hair you've always wanted.