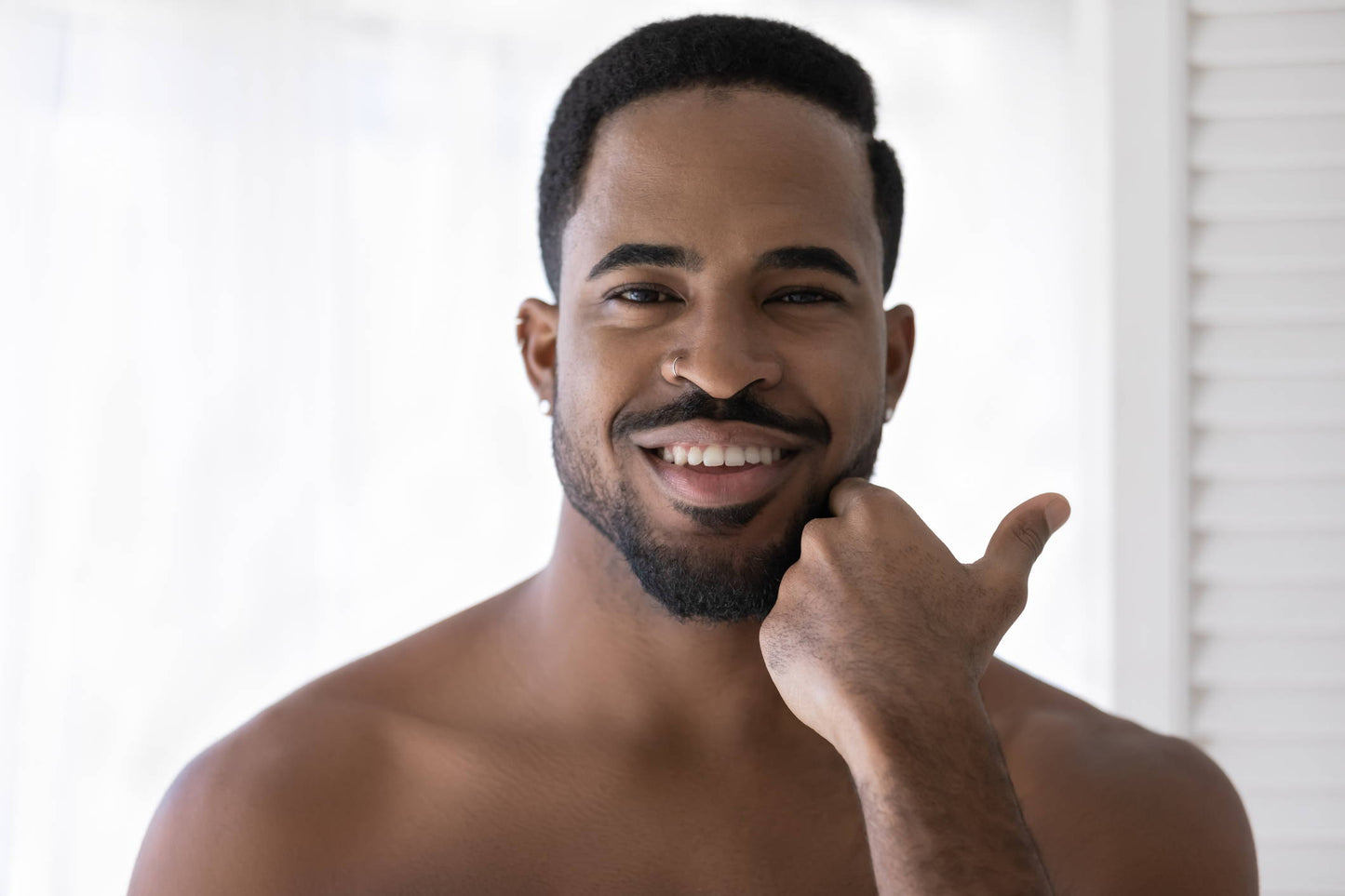 5 Grooming Essentials for Men That Level You Up
---
Let's be honest: most of us have gotten pretty sloppy and rugged over the past several months that we have been isolating and avoiding social contact. But now that we are back to mingling (for now), it's time to get a grip on how we present ourselves to the world. Where Zoom calls likely hid patchiness in your beard or on your scalp, friends, co-workers, and relatives will certainly notice changes in your appearance. So here are 5 grooming essentials you need to have in your bathroom cabinet to help you look and feel like you are on top of your game.
---
Essential #1: Spectral.BRD

Facial hair is in, and most men would like the opportunity to grow a beard whenever they want. Yet, the reality is that many men cannot grow facial hair, or if they do, it can be patchy or will not grow where they want it to grow. Fortunately, there are hair growth solutions like those you might use on your scalp. The Spectral.BRD is a breakthrough product in men's hair care that evens out your facial hair coverage and reduces patchiness. It also gives you a fuller, thicker beard and mustache and improves the quality of your hair.
Behind the magic of this product is a proprietary formula that includes Nanoxidil®, adenosine, Piroctone Olamine, and other powerful ingredients to support facial hair growth. Using Spectral.BRD is simple: you apply 6-8 drops of the serum directly on the area you wish to see more growth. Then, you massage the serum into this area and leave it on your skin. Do this twice daily and wash your hands after each application. Spectral.BRD is the perfect solution for the modern man who wants to don facial hair.
---
---
Essential #2: Revita Shampoo

Washing your hair is one of two critical steps you take to keep yourself clean. And, what you wash your hair with matters, even if you prefer short hair. Shampoo products have the potential to help heal damaged hair, curb inflammation on your scalp, treat skin infections, and even boost hair growth. With the REVITA shampoo and conditioner, you can get all of these benefits and more.
Men struggling with hair loss can significantly benefit from regular use of this shampoo, as it helps treat even the most difficult-to-treat forms of hair loss like androgenic alopecia. This product contains caffeine, ketoconazole, procyanidin B2, taurine, TriCopper peptides, and much more.
---
---
Most men who have hair benefit from having a hair gel on standby when they need it. Indeed, no matter how sophisticated you may feel with bedhead, every man can benefit from a little extra attention to styling at certain times. The REVITA Gel is great for all hair types, and it has the added benefit of doing more work than just holding your hair in place. It also helps reduce inflammation and prevents hair loss. In fact, the ingredients in this gel stimulate hair growth. What is more, it strengthens your hair, helps you maintain your style, and also gives your hair some movement and volume.
---
---
---
Essential #4: StimuROLLER

Between make-up, anti-wrinkle creams, and laser treatments, the majority of skincare is aimed at women. But, skincare is equally as important for men. It just so happens there are fewer products and resources for male skincare. But, like women, men deal with wrinkles, acne scars, sun damage, and hyperpigmentation. And while it is more acceptable for men to have weathered faces, you may not want to age too soon.
One of the best skincare tools you should keep in your bathroom drawer is a dermaroller. This device does microneedling on your face. Essentially, this tool helps improve the surface of your skin. Tiny needles create micro punctures in your skin. Receptors in your skin recognize that these micro punctures are small trauma sites, so the immune system sends extra blood flow, nutrients, and healing cells to these areas. With additional access to nutrients and oxygenation, areas that are dermarolled can undergo tissues healing and remodeling. Part of the healing process allows collagen fibers to repair and build up, making wrinkles harder to detect. The same thing goes for sun damage and scarring.
One of the other benefits of a dermaroller is that it can help produce hair growth in areas of use. Again, because more oxygen and nutrients are available after using this device, hair follicles in the area you used it are more likely to create a new follicle. Therefore, this tool does not only have to be used to make your skin smoother, but it can also help with hair regrowth both on your face for beard growth and on your scalp. If you seek hair growth on your scalp, you will want to use a dermaroller with slightly longer needles than what you would use on your face. However, it is best to start small and then increase in millimeters as necessary.
---
Stimulate Your Body's Healing Response/Growth Factor
---
Essential #5: Hair and Skin Supplements
Looking and feeling healthy comes from within. No matter how many products you use or how much attention you give to styling your hair just so, taking care of your body on the inside is the foundation for up-leveling your game on the outside.
Just like you may take supplements to help with muscle growth, joint protection, and bone health, you should also add supplements to support your skin and hair. Ideally, you should be able to get most of your nutrients from a healthy, clean diet. But, the reality is that most of us do not meet our minimum daily requirements despite good access to healthy foods. Similarly, it can be hard to get the right amount of biotin and other hair support nutrients from our diet, so taking a supplement on top of eating well can ensure you have the proper nutrients to help meet your hair and skin goals.
Ready to level up your game? You can shop all of these grooming essentials at DS Laboratories.
---
---