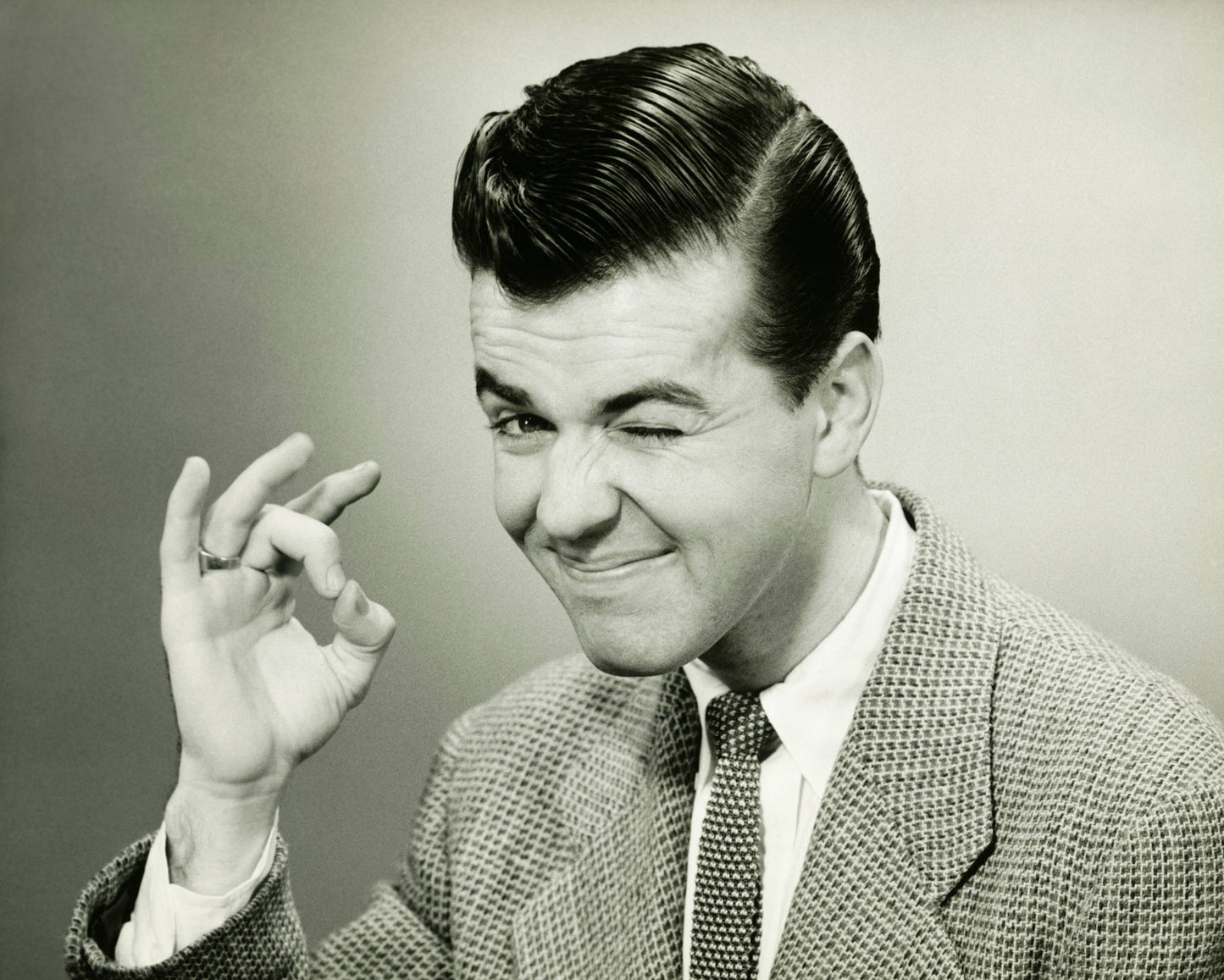 3 Steps to the Perfect Slick Back Hair Style Look
---
The slick back hair style has stayed at the forefront of male hair fashion throughout the decades. This iconic cut has certainly evolved from a very firm, greased look to the more relaxed, cool look that is a favorite today. But knowing how to get this style to look so good (and how to get it to stay) is a mystery for most. Fortunately, it's not as hard as you think. Here's a step-by-step tutorial on how to get that casual, cool look on your own head.
---
Step 1: Start with wet, clean hair

While many hairstyles work best with day-old "dirty" hair, the slick back look is best on freshly clean, wet hair. Hair that contains yesterday's products or too much of your natural oils can cause the style to get weighted down quickly and fall. So, don't just rinse your hair. Instead, make sure to use shampoo to get it clean and fresh. Of course, if you have naturally dry or fine hair, daily shampooing may be too harsh, so you can skip the shampoo but be sure to use a conditioner to hydrate and soften the hairs for styling.
Once it's clean, start by towel drying your hair to get most of the water out. You want your hair to be somewhat damp when you begin to style it, so do the bare minimum when it comes to toweling it.
---
Step 2: Comb it in the direction you prefer

Taking a wide-toothed comb, start combing your hair where you want it to go beginning with your ends. If you start at the root, which is most natural to us, it can pull hair out and cause tangling. However, you can train the ends to land where you want them when it's all said and done and can follow the comb in that direction once you move closer to the roots.
Before adding any product, let your hair rest for a few moments. This allows your hair to naturally start drying in the direction you want your hair to go. Then, when it's about 50% wet and 50% dry, you can move on to the next and final phase. Most men do other parts of their grooming regime while they wait, such as shaving or brushing teeth.
---
Step 3: Work product into your hair

The last step is to work products into your hair. This step requires some trial and error in the beginning as you learn what products best hold in your hair. A good place to start is to ask your barber or stylist for a recommendation. They have likely worked with numerous different products and can recommend something that will be best for your hair type and texture. Generally, men work with either a gel or a paste to achieve that slick back look.
With about a dime-size of product on your fingers, "slick" the product onto your hair. Unlike other styles where you may want volume and texture, you will want to avoid the roots on your first pass or two with the product. Allow it to sit and dry for about 30 seconds, then take a little more product (again, about a dime size) and run your fingers through the hair. If you find your fingers are getting caught in tangles, your hair is probably too dry. All you have to do is re-wet your fingertips to get more moisture on your locks.
Next, take your comb and run it back through your hair so that it looks exactly how you want it to appear. Once it's how you want it, don't touch it again, so it has a chance to stick and stay. And speaking of staying, the very last product you will want to use for this hairstyle is some hair spray. The stickiness will help keep it in place and prevent flyaways from popping up.
---
Troubleshooting problems with the slick back hairstyle

If you follow the above steps and it's just not delivering the desired results, there may be a few ways to correct it. Firstly, make sure you have the right haircut for this look. Men with more hair on top may struggle with too much weight pulling down on the hair. In this case, a good haircut may help make the "slick back" part easier to work with because it is lighter. Secondly, you may need to play with different products to find the right one for your hair. Again, this is where your hairstylist comes in to offer their expertise. Thirdly, hair loss may also cause problems, especially if you can't get enough hair upfront to achieve a slick back look.
Hair loss from androgenic alopecia (or male pattern hair loss) is widespread, and while there is no cure, it can be improved and even suppressed. Therefore, the sooner you start treating hair loss from this condition, the better. DS Laboratories offers cutting-edge technology to stimulate hair growth so you can feel confident in your appearance and get the look you want.
---
Try Our Best Sellers For The Perfect Look