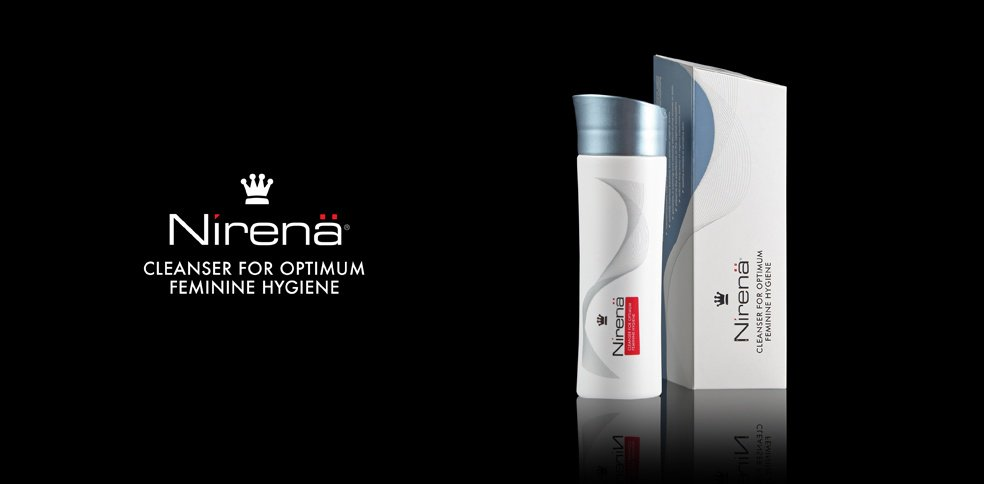 Nirenä® Cleanser For Optimum Feminine Hygiene
The brilliant minds behind the development of DS Laboratories products create today what becomes the standard tomorrow.
Today we advance the art and science of intimate feminine care with premium Nirena® intimate cleanser - a breakthrough that provides efficacy and results that are inadequately addressed by other commercially available products, which use cheap detergents, harsh chemicals, and low pH tolerances.◊*

Nirena® has a precisely set pH carefully tested and tracked on every batch to protect the vaginal flora integrity. In addition, Nirena contains exclusive and totally natural compounds (with extensive clinical and scientific evidence) which have proven antibacterial, anticandidal, antifungal, and anti-inflammatory properties. These ingredients have never been used in any commercially available product.◊*
It took two years of development for Nirena to reach maturity. A dozen experienced researchers, designers, and producers collaborating around the world developed the perfect synthesis of state-of-the-art technology and precision. Beginning with your very first use, it is an exceptional experience to treat yourself to Nirena, as it is for us to make it.◊*
Nirena is uniquely designed to combine fast acting high-performance action with only naturally derived high purity ingredients - it is for women who desire the best. This hypoallergenic gel, made with no synthetic chemicals, maintains optimal health and prevents the itching, odor, and discharge that result from infections.◊*
Nirena is indicated for women who:
believe in natural products, organic foods, and reducing environmental impact

don't mind paying a little more for high-quality products

eschew synthetic clothing and fabrics

exercise and take care of their bodies

want to minimize risk of yeast infection, bacterial vaginosis, trichomoniasis, or other vaginal disease

suffer bouts of itching, odor, or other symptoms of vaginitis more than once per year

have used common bath soap, bubble bath, or feminine hygienic sprays on the vulva

have used douches
It helps to prevent various vaginal infections infections and maintain a healthy vaginal environment.◊*
Not another soap, Nirena is a gentle organic gel made from naturally derived high-performance extracts, pH-balanced precisely for the vaginal environment.◊*
Like all bodily orifices — mouth, eyes, etc. — the vaginal area is not covered in skin, therefore not suitable to wash with soap. It is a specialized mucous membrane, also called mucosa, which functions in protection, nutrient absorption, and secretion of mucus, enzymes, and salts, and always remains soft and smooth, lubricated by the secretions of several glands.
Skin, on the other hand, is a cornified surface with hair, sweat glands, and sebaceous glands. It can be washed with common soap.
Nirena preserves natural vaginal pH between 3.8 and 4.2, because it contains a variety of unique compounds obtained through mechanical compression such as Brazilian peppertree extract.◊*
As a hypoallergenic formula, Nirena contains no synthetic chemicals or detergents to irritate sensitive skin or mucosa. Unlike soap, it rinses free of residues that cause dryness. Instead, Nirena calms and moisturizes irritated and sensitive tissues, leaving them soft and smooth.◊*
How does Nirena clean?
Nirena, an intimate hygiene gel, preserves natural vaginal flora with a precisely balanced pH level, formulated with unique high-performance naturally derived compounds. These exclusive compounds (with extensive clinical and scientific evidence) have proven antibacterial, anticandidal, antifungal, and anti-inflammatory properties.◊*
Nirena contains no harsh chemicals like sodium lauryl sulfate or sodium hydroxide, substances found in cheap commercial cleansers that raise pH levels into the unhealthy alkaline range. Such products cause a pH unbalance that interferes with Döderlein's bacillus and other natural flora.◊*
In the self-regulating ecosystem of the vagina, this essential lactobacillus uses glycogen from cells of the vaginal epithelium, transforming it into lactic acid to maintain a normal vaginal pH between 3.8 and 4.2. This environment encourages growth of the Döderlein's bacillus and discourages growth of foreign pathogens.◊*
By maintaining pH balance, Nirena preserves vaginal flora and protects women from the infections that cause itchiness and unusual discharge.
Apply Nirena intimate cleanser to inner and outer areas during shower or bath. Leave on for 1-3 minutes and rinse. Daily use of Nirena helps reduce frequency of vaginal infections, discomfort, and promotes optimal hygienic conditions. Safe for pregnant or nursing women
---
Legend
[*] Results are not guaranteed, individual results may vary.
[◊] This statement has not been evaluated by the Food and Drug Administration. This product is not intended to diagnose, treat, cure, or prevent any disease.
New packaging currently only available in select markets